Sweatdrop Studios is a UK-based independent publisher and comic collaborative.

Since 2001, we've been creating original comics and artwork in a wide variety of genres and styles; publishing single issues, collected volumes, anthologies and light novels.

We are often involved in teaching and instruction, authoring many how-to-draw books for other publishers, writing online tutorials, providing product demonstrations and delivering workshops at events. We specialise in Manga format and techniques!

Our members include professional illustrators and writers with numerous accolades and awards in the comic industry and experience working in other related fields, such as advertising, video game graphics, fashion design and children's publications.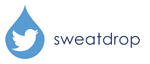 We have been writing, illustrating and printing our own original work since 2001 so if you are looking for comics that are entirely home grown and made with love, look no further!
Our members have very different art styles and interests; our publications reflect this. So you can find:
- Single issues, collected volumes, anthologies and light novels
- Contemporary, historical, horror, sci-fi and fantasy settings
- Themes of romance, drama, adventure, thriller, action, comedy
- Bold, sketchy, realistic, stark, cute or delicate styles
- Writing aimed at kids, teenagers and adults
Thanks to the support of our customers over the years, we've been able to sustain and develop the group so that we can achieve higher standards in print quality. Our books have been read and enjoyed around the world, sitting proudly on the shelf next to those from much larger publishers!
We hope you enjoy our comics and continue to support us.
Please buy our printed comics directly from us through
our online shop
. See our
Payment & Shipping details
below.
Our products can also be found at selected retailers, book stores and comic book shops. If your local store doesn't stock our work, why not put in a request for them to order it in? Just note down the title, author and ISBN.
We also sell our products at many conventions and events around the UK (and sometimes beyond!). Please check our social media accounts to see if we are coming to one near you!
Our members also attend even more events as individual artists/guests, which we will publicise, so you can buy Sweatdrop products from them too.
Sweatdrop Studios offers a range of services for clients interested in comics and manga. We can:

- Create bespoke illustrations and artwork
- Create or collaborate on comics and sequential art
- Write instructional books and guides on comic creation
- Deliver workshops and presentations on comics
- Provide product demonstrations and reviews

Please feel free to view any of our members profiles above, where you can see samples of their work, links to their individual websites and direct contact links.

To contact the group, please send email to the relevant address from the list below. It will be answered by one of the Admins within 48 hours. Postal addresses can be supplied upon demand.
| | |
| --- | --- |
| Joining Sweatdrop Applications: | |
| Workshops & Events: | |
| Website Problems: | |
| Ordering: | |
| Artwork Commissions: | |
Please note that because we are a group of artists working together on an independent basis, we cannot offer work, work experience or work placements.
Some of the Companies and individuals we've worked with: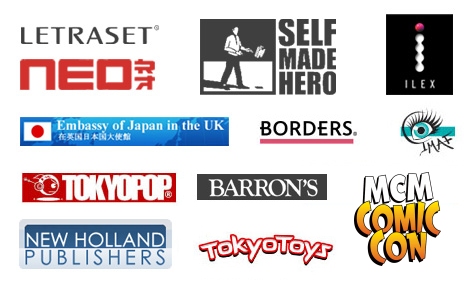 Though a registered publisher, Sweatdrop is not an employer but a group of artists who print and sell their own work under the brand. All print runs are paid for by the individual creators, excepting anthologies; the group does NOT cover individual printing cost. It provides a platform for creators to self publish their own stories and sell them online and at events.

Sweatdrop is always happy to consider new members!
You need to:
- Live in the UK
- Create original comics
- Have one completed comic, to a high standard, ready to print. The comic must be at least 20 pages, and can be either a standalone story, several shorter stories or a chapter of a longer work.
- Be familiar with our products and standards
- Be friendly and willing to work within a group
- Be committed to seeing projects through to fulfilment
- Be willing to learn and expand your skills
- Deliver content digitally (please scan traditional media)
- Be over 16 years old.

Why join Sweatdrop?

As a member, some of the benefits you receive will be:
- Advertisement of your comic in other titles
- Option of joining group print runs
- Option to participate in group projects and anthologies
- International sales through the website
- Sales at various UK conventions and events
- ISBNs for books/collected volumes (and associated distribution through Amazon, other retailers and wholesalers)

Some conditions/obligations!

Once you are a member you must:
- Give 10-20% of the cover price to the group to cover distribution and other miscellaneous costs
- Print the Sweatdrop logo on your comic's cover at a legible size
- Include 1 or more page of adverts for other people's titles
- Help out at group events if at all possible, allowing for individual circumstances and availability

Advice for applicants

Be realistic! Epics are very tempting, but shorter stories are easier to complete, and you will improve/learn loads, particularly if you're just starting out.

If you get turned down, just keep working hard and try again. Not all of our members were successful on their first application and we always give feedback. We're impressed by noticeable improvements in your art or writing!

Please be aware that we are very busy during convention season (Feb-Oct), so applications processing will slow down or even pause altogether during these times. Please be patient and understand that con season is a manic time for any comics group.

You should be familiar with self-publishing and how self-publishing works. It's all right if you only publish online currently (ie. you post your comic as a webcomic on a hosting platform), just so long as you're familiar with the process to some extent and are ready to self-publish in physical print.

Although it's not obligatory, we recommend you get to know us, either by talking with us on social media, or meeting us at events (announcements of which can be found on our social media)! As a group and collective, we depend on collaboration and great teamwork, so it's a good idea to get acquainted before you apply.

Application Form

Please send us (applications@sweatdrop.com) the following:

Name:

Age:

Location:

Website:

Tell us about your comic(s)... titles, summaries, length:

Do you have your comic online? If so, what's the URL?:

Sample pages: (Attach or link). Please send at least 10 sequential pages, preferably from around the start of your comic; we need to see storytelling as well as artistic skill. If you have multiple short comics, send a total of 10 or more pages from them as needed. If emailing pages, please send JPGs less than 1000 pixels wide.

Is your comic the work of more than one person? If so, please confirm that all contributors have consented to its being submitted as part of your application and, if the application is successful, being printed as a Sweatdrop comic.

Finally, please tell us why you want to join - how do you think being part of Sweatdrop will be beneficial for you?
Orders are dispatched twice weekly. Within the UK, your comics will be sent by first class mail and should arrive within two working days of being dispatched, unless the total weight is greater than 1.25kg, in which case your order will be sent as a standard parcel and will take between three and five days to arrive. Orders placed up until 6pm on any workday will be sent in the next shipment.
UK orders typically take 3 days, International takes 5 to 10 days, from day of shipping; orders will be sent by airmail and priced accordingly. Shipping costs are calculated at Checkout after you provide us with your address. You will be shown this before committing to the purchase of your order. However, if you are ordering from outside the UK, you may be charged VAT and handling fees by your local postal system when the package enters your country (this now includes orders from the EU).
Please note that while we will pack your order with the utmost care, we cannot guarantee that items sent outside the UK will arrive in pristine condition. If you wish to make use of a specific courier, please contact us at shop@sweatdrop.com to make arrangements.
Please allow 21 days before contacting us regarding missing orders. If your order has not arrived by then, contact us quoting your Order ID in the subject line.
Click here
for Contact information.

We currently accept payment via
PayPal
. You
do not
need to be registered with PayPal to use the service.
PayPal
accepts Visa, Visa Delta, Visa Electron, Switch/Maestro, Solo, MasterCard and American Express.
Once you're ready to purchase, simply click the 'Checkout' link in your cart. If you would like to update or delete your items, click on 'Full View' in your cart.

What data we collect from you
Sweatdrop Studios collects personal data which you provide to us when you order from our online shop, specifically, your name, address and (optionally) your email address.
Why we need it
We need your name and address in order to post the comics which you have ordered.
What we do with it
We use Paypal, a third-party provider, to process all online purchases. We do not store your credit card or PayPal account information, only your name and address (and email address if provided). Please see
Paypal's Privacy Policy
for more information on how they manage your data. We will not share your data with any other parties.
How long we keep it
We are required under UK tax law to keep your basic personal data (name, address, contact details) for a minimum of 6 years.
What are your rights?
If at any point you believe the information we have about you is incorrect, you can request to see this information and have it corrected or deleted. If you wish to raise a complaint on how we have handled your personal data, you can contact our Data Protection Officer who will investigate the matter.
If you are not satisfied with our response or believe we are processing your personal data not in accordance with the law you can complain to the Information Commissioner's Office (ICO).
Our Data Protection Officer is Morag Lewis and you can contact them at webmaster@sweatdrop.com.